I love reading other blogs.  I just gain so much inspiration and insight from the words of my fellow bloggers.  Here's my routine at the end of the day:
I hop onto bloglovin' and scroll through the list of new posts from the 75 blogs I follow (yes, 75).
I click over to the articles that catch my eye.  Sometimes it's the title, sometimes it's the photo, and other times, it's the first few sentences that pull me in (we should all strive for the triple threat, shouldn't we?).  There are some bloggers with whom I've developed a close bloggy buddyship, and I will click over and read their posts no matter what.  In the words of Aerosmith, "I don't wanna miss a thing."
I try to leave a comment on each post that I read.
I click on hyperlinks that look enticing.  So, if a blogger hyperlinks an awesome article on how to feature your most Pinterest-worthy posts in your sidebar, you can bet I'm going to click over and read it.  The word "awesome" still bears weight with me (even though it's no longer 1996).
And through my clicking, I hop from blog to blog (you know the way it goes), and through that exploration I have discovered some pretty incredible bloggers out there with a lot to learn from.
Obviously, this is time-consuming.  The largest quantity of my "blogging time" each day is spent reading and commenting on other blogs.  But I also still consider myself pretty new at this whole blogging business, and I am soaking up so much from my fellow bloggers.  The time invested is worthy.  It makes me a better blogger, and I've forged some wonderful relationships as a result.
So, rather than keep these pearls of wisdom to myself, I thought I'd devote a post to passing some of them along to you; it'll make for some great weekend reading.  And while the topic is on blogging, many of the tenants hold true for life in general…especially the last two.
Here are five pearls of wisdom from five different bloggers.  Each one is "awesome" in its own rite.
Pearl #1: Blog puberty: it's part of growing up as a blogger.
Mandi from Vintage Revivals keeps it real in her post, Blog Puberty: It's a Thing.  It was the first thing I read by her, and I immediately latched on to her candid writing style and relatability.  Although I'm still a baby blogger in many ways, I resonated with much of what she wrote about blogger adolescence and the awkwardness of it all – – from migrating from .com to self-hosted and having to start all over again in the eyes of Google to the frustrations of Pinterest getting credit for the creativity of real people.  The post is worth a visit if only to see her amazingly awkward self-portraits.  Gotta love a girl who's willing to make herself look a fool.  Click here to read this pearl.
Pearl #2: Break the rules on WHAT to post.
It was refreshing to come across a post by Danielle from Take Heart, ironically entitled: A Blogger's Guide to Blogging.  There's a lot that has been written out there about the importance of staying in your niche as a blogger.  For example, if you're a fashion blogger, many advise that you should stick to fashion posts and not post recipes or crafts or reflections on life.  While there's definite value to having a focus, Danielle makes the oh so wise point that your priority as a blogger should be to write from your heart and on what you're excited about.  That may take you in many different directions, but that's okay.  Be true to you.  That's just one of the many pearls she shares in this post.  Check 'em all out here.
Pearl #3: Break the rules on WHEN to post. 
So, maybe you've seen a certain little blog button on my sidebar that reads "Madalynne"?  It looks like this:
Okay, so Madalynne is a technical designer and pattern maker for Urban Outfitters who writes over at her self-titled blog.  We started up an email correspondence after I had asked her about her blog design (which I so admire).  She's a friendly gal, so we got to writing about all sorts of things, and she offered some wisdom that really hit home.  With her permission, here's an excerpt from our email correspondence:
"One tip I can give for blogging is that it doesn't matter HOW many times you post per week; what matters is that you are consistent. Some of my favorite blogs only post 2 times per week but when their posts are QUALITY posts. Emily Shuman of the blog CUPCAKES AND CASHMERE used to only post 3 times per week, and I appreciated that. I don't have time to read all 10 of her posts (hypothetically), and by her posting less frequently, I felt like I could stay on top of her life and that I got the highlights rather than the nonsense I don't care about. So, keep at it and don't worry about posting all the time. Just make sure you're consistent. Does this make sense?"
Yes, Madalynne.  It makes perfect sense.  Although I set a personal goal of posting three times a week, I'm learning that it's much more important to post when you have something to share rather than posting for the sake of posting.
Now, click here to go visit her beautiful blog.
Pearl #4: Say no to say yes.
One of the blogs I have been following since I started blogging in September is Elise Blaha's slice of the w.w.w., Enjoy It.  She is one of those bloggers who is generous with her pearls, and I've gleaned so many tips and tricks from her over the past several months.  One pearl came from a reflective post in December called Three Business Lessons from 2012.  Her first lesson was to "say no to say yes."  She explained that although it can feel uncomfortable to say "no" to offers that come your way, if it's not in alignment with your passions and goals, you've gotta say "no" in order to leave more room to say "yes" to those projects that do fuel your creative fire.  Click here to read her other 2 business lessons, which are also precious pearls!
Pearl #5: Feed your life.  It will feed your blog.
Erin blogs over at Living in Yellow, and I've gotten a lot out of her posts on blogging…in particular, her post entitled Blogging Advice in Your Words.  It's a compilation of tons of little pearls from bloggers across blogland in response to Erin's tweet and Facebook post requesting advice on blogging.  She published them all, organizing them by category, and included a final category with her own advice.  One pearl she stated was short, simple, but oh so profound: "Feed your life.  It will feed your blog."  How true!  If we're struggling to come up with an idea for a post, what good does it do to stay behind a screen twiddling a virtual pencil?  We need to get out.  Go on an adventure with family and friends.  Intentionally choose to do activities that nurture creativity.  It is then that the ideas and inspiration will flow.  There are a whole lot more pearls where that one came from: click here.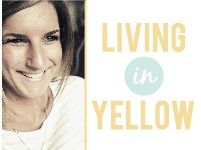 So, that's what I've been reading.  How about you?  Blogger or not, have you read any posts, articles, or books that have been "pearly" and full of wisdom?  Do share in the comments below!  I'm always eager to get my eyes on some good readin'.
Have a great weekend, folks!
P.S. The word "pearl" was mentioned 18 times in this post.  Can I get a witness keyword?
P.P.S.  I link up here.